Karolina Krasouli
CYCLADIC CAFE ART PROJECT
NOVEMBER 15 – DECEMBER 11 2023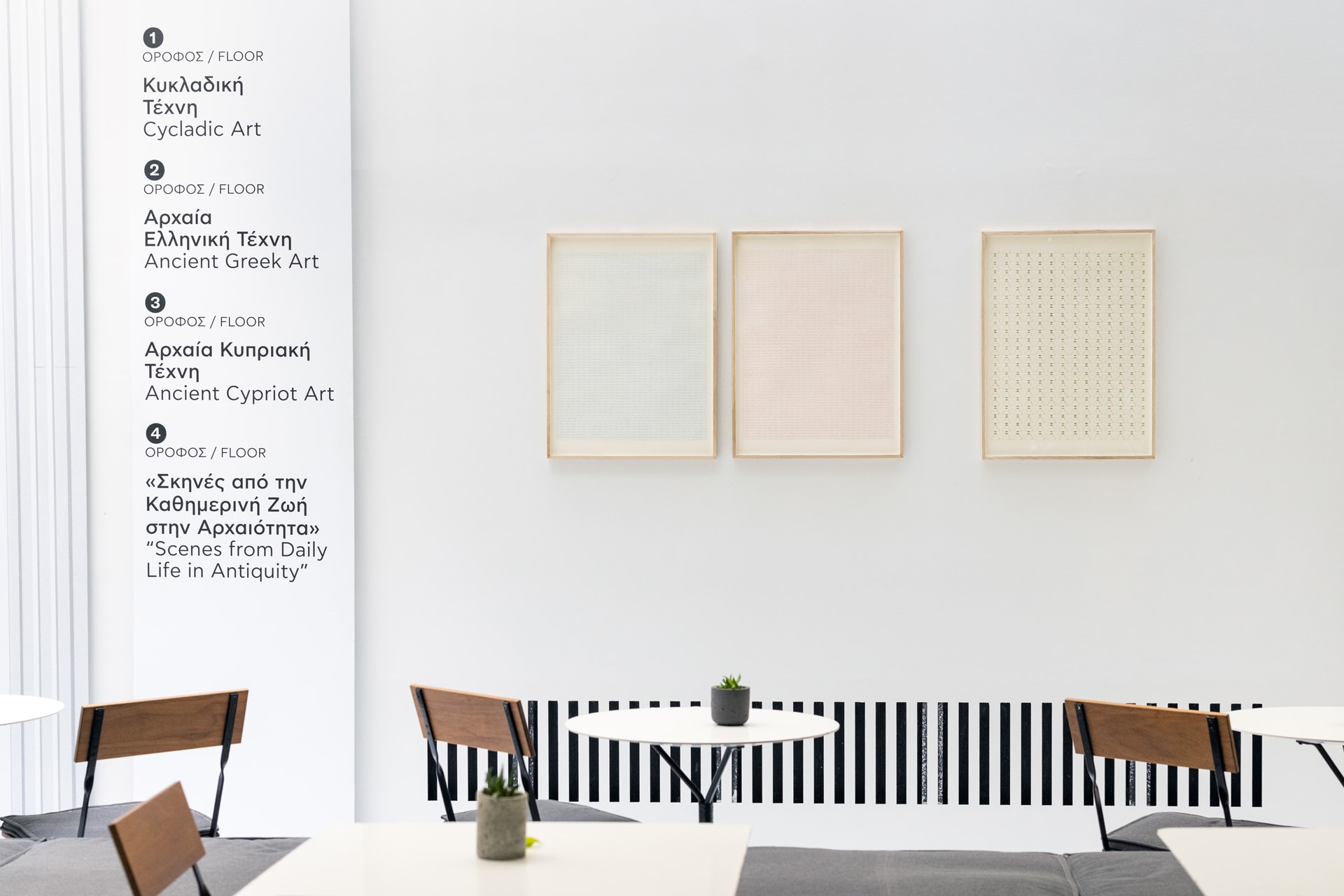 The drawings of Karolina Krasouli (b. 1962, Athens) mirror the artist's interest in the research on the representation of visual phenomena, which are connected to the mechanisms of memory and language.
The starting point of the gestural process of writing is the inspiration that Krasouli draws from literature, and more specifically, from poetry, autobiography and literary nonfiction. Sewing, painting, draping of the canvas, patterned motifs and spatial mapping on paper are all contemplative processes. Roland Barthes in his "Theory of Texts" considers the text as a constant "weaving" process. Every text is a weaving of earlier references. This "intertextuality" can also be found in Krasouli's multi-layered works on canvas, as well as in her elaborate works on paper.
Karolina Krasouli is a visual artist based in Athens. Following her studies in Clinical Psychology (Greece and France), she obtained a Master's in Fine Arts at the École Nationale Supérieure des Beaux-Arts Lyon in 2014. Working in painting, photography and film, her works explore the boundaries between abstraction and representation. Through the process of reading and writing, Krasouli invokes a range of mechanisms whereby meanings and sentiments are "rewritten" aiming to invent a new language. In 2015, she co-founded Alfabeto, a group for theoretical and practical research on the concept of transmission in art; Alfabeto organised a series of lectures and exhibitions at the French Academy in Rome. The same year, she was awarded a two-year fellowship for residency at the Cité des Arts in Paris. In 2019 she was a fellow of the Stavros Niarchos Foundation's Artist Fellowship Program, Artworks. From January to March 2022, she was an artist in residence at the Delfina Foundation in London.
She has participated in numerous exhibitions in Greece and abroad, including: Symbiotics (curated by Miss Dialectic, EMST, Athens, 2023); Εncore (curated by E. Koukou, Chr. Marinos and Th. Tramboulis, The Municipal Gallery of Athens, Greece, 2023); Aaahhh!!! Paris Internationale, (Grey Noise Dubai, Paris, 2022); Doomed Companions Unsubstantial Shades (NEON, Embassy of Greece in London, 2022); Phenomenon 4 (Phenomenon Association and Kerenidis Pepe Collection, Anafi, 2022); 21!New Painting, (Archaeological museum of Agios Nikolaos, Crete, 2021); Promise (solo exhibition at the City of Athens Arts Centre, Parko Eleftherias, 2021); Bring me the sunset in a cup (solo exhibition, La vitrine, Fracîle de France, le plateau, Paris, 2020); Curved Arrows (Daily Lazy et Kunstraum am Schauplatz, Vienna, 2019); Collection. La composante Peintures (museum collection exhibition, Frac Bretagne, Rennes, 2019); L'Incompatible Vugo (Pauline Perplexe, Paris, 2018); Incorporated! (Biennale de Rennes, 2016); 60e Salon de Montrouge (Paris, 2015); L' Analfabeto (Villa Medici, 2015); Les Enfants du Sabbat (Le Creux de l'Enfer, Thiers, 2015).
23/02/23 No.1, 2023
23/02/23 No.2, 2023
28/07/22, 2023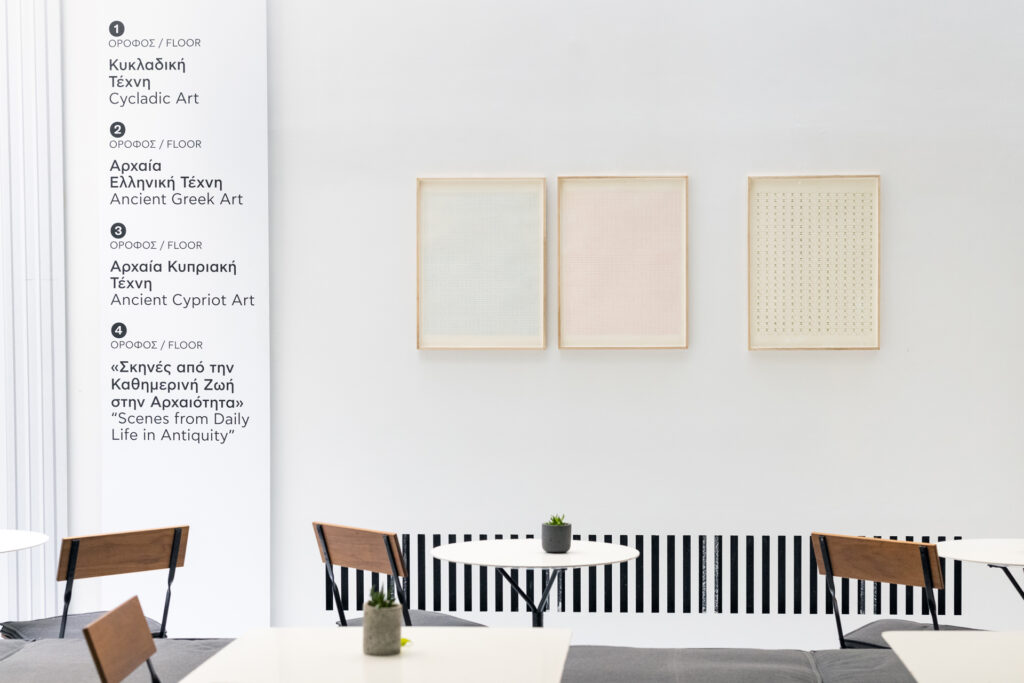 01
Photo Paris Tavitian © Museum of Cycladic Art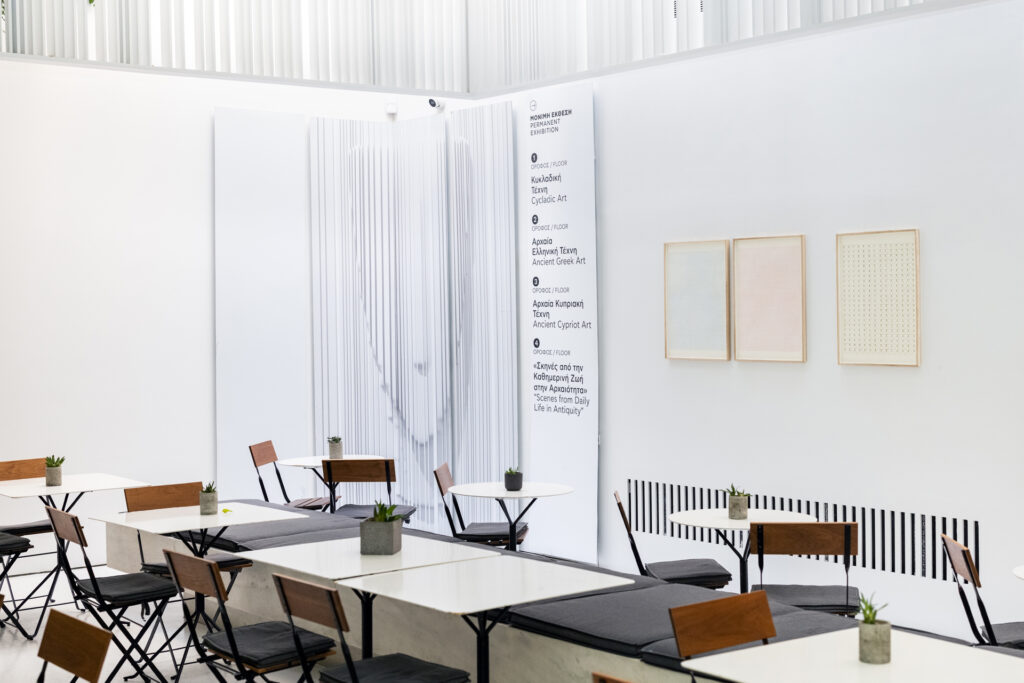 02
Photo Paris Tavitian © Museum of Cycladic Art
03
Photo Paris Tavitian © Museum of Cycladic Art
01
Photo Paris Tavitian © Museum of Cycladic Art
02
Photo Paris Tavitian © Museum of Cycladic Art
03
Photo Paris Tavitian © Museum of Cycladic Art
CYCLADIC CAFE ART PROJECT
LEARN MORE
The Museum of Cycladic Art presents the Cycladic Café Art Project – part of the Modern Art Program – combining places of social gathering with art. With the ultimate aim of embracing the Greek and international scene of modern art, the Museum presents works by internationally acclaimed and emerging artists linked to its current exhibitions and activities at Cycladic Café. The Cycladic Café Art Project motivates the dialogue between art and everyday life.
Curated by:
Aphrodite Gonou & Atalanti Martinou